the sytsma family lived two houses down from us in dacula, ga. josiah was born 6 weeks before millie. so karen sytsma and i muddled through those first months of parenting together. and then came maxx. and then caleb. and we muddled through having multiple children together. we both did some part time working and kept each other's kids and finally, to really show her up... i had rosie. and even though rosie kind of destroyed our nice even two for two ratio... rosie made the picture complete and joyful in a way that we never would have suspected.
i am pretty sure that both of those sytsma boys would do almost anything for that girl. or for millie. and MAYBE even for maxx.
and then to totally throw her off her game. i moved to florida. and she never would have forgiven me.... except i have a beach house. it is the only reason she let me live in florida.
so these kids are together just once or twice a year. and yet that is enough to cement their friendship. and still allows them to be total goofballs for the week they are together. they don't even have to REconnect. they just arrive. and the goofiness begins. and the games begin. and the swimming and the sunscreening. and the fun...
and karen and i love that. because it gives us plenty of time to scrapbook. and we have plenty of pictures to scrapbook. and always some of these goofy kids together....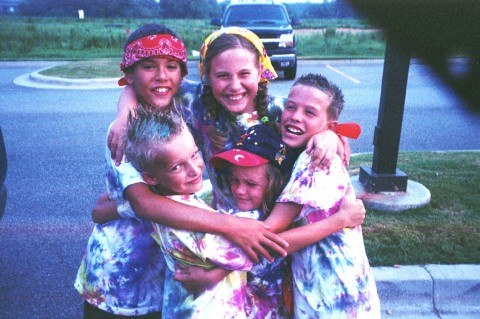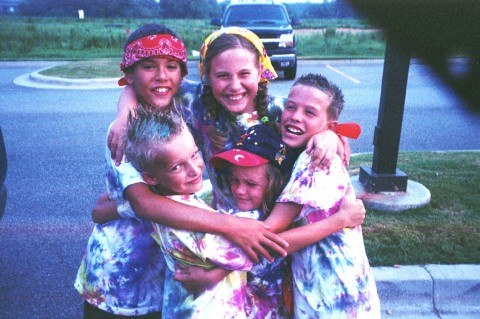 wow. talk about photography skills improving (and cameras and digital imaging improving). and kids growing up WAY too fast. and karen and i skillfully avoiding the harsh glare of the camera...
and for those of you who wonder if there is a mr. sytsma.... there is. we were there for his YEARS of schooling to become dr. sytsma (no wonder he never had time to come down to the beach for a week). and he is a christian sex therapist. and we love that about him. i try to work into most conversations that my best friend's husband is a CHRISTIAN SEX THERAPIST. because it gets some awesome reactions from people. here is his website... not that any of you need that. not that i know exactly where it is... intimatemarriage.org
thank you for walking back through ten years of sytsmas at the beach. here's to ten, twenty, thirty more years of goofy photos of our kids together...